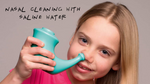 With the Rhino Horn you keep your nose open and free. Nasal cleansing removes blockages, allergens, and pollen. The natural saline solution also reaches the sinuses and relaxes the nasal mucous. You can immediately breathe freely and relieved.
The Rhino Horn is a certified medical device, made from recyclable and BPA-free plastic. This ensures safe use and long service life.
Thanks to the unique measuring spoon for salt, the Rhino Horn is economical to use! By measuring pure salt with the measuring spoon, you can prepare a natural salt solution in no time. This makes Rhino Horn the choice for economical and effective daily nose hygiene.
Are you curious to know how the nasal rinse works?